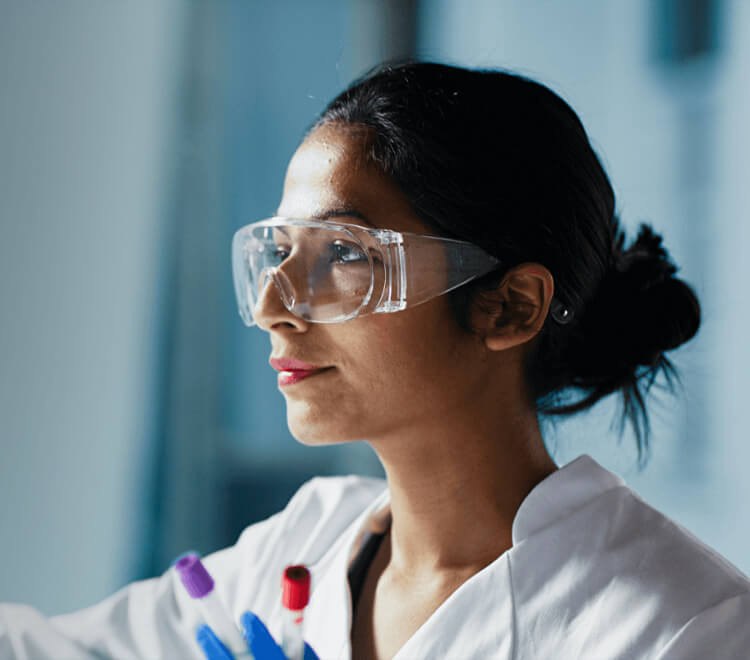 BIOPHARMA SOLUTIONS
Helping to bring new cancer therapies to patients sooner
---
Epigenetic changes have a tremendous impact on cancer development and progression, yet epigenomic biomarkers remain untapped. Partner with Guardant Health to be on the cutting-edge of a new era that will ultimately lead to the development of more effective, targeted cancer therapies. Comprehensive, multi-dimensional insights from a simple blood draw
Realizing the promise of precision medicine demands a comprehensive, multi-dimensional understanding of a patient's tumor and immune response. Guardant Infinity provides a unique combined genomic and epigenomic molecular profile revealing unseen insights distinctive to each sample from a single blood draw.
Reaching new heights in liquid biopsy technology with methylation
Epigenetic changes occur early in tumorigenesis and are highly pervasive across a tumor type. This allows DNA methylation cancer biomarkers to be suitable for early detection and have utility across a range of areas relevant to cancer detection and treatment. The development of more specific drugs selectively targeting mutated epigenetic modifiers will help restrict effects to tumor cells only and decrease potential side effects.1, 2 Guardant Infinity detects an aggregated methylation signal that can distinguish cancer patients from cancer-free patients, at 91% sensitivity and 97% specificity across a cohort of lung, breast, and CRC samples (Guardant Health generated data).
Watch our webinar to understand how methylation in liquid biopsy applications can bring novel insights across the continuum of care and accelerate biomarker discovery and patient selection for clinical trials.
800+ gene panel
15MB methylation panel

Epigenic mechanisms can synergize with known driver mutations to facilitate cancer development or evolution.1 Guardant Infinity provides comprehensive content enabling novel and emerging biomarker identification and helps unravel the complexity of therapeutic response and resistance.
Download the brochure
Product Overview
Guardant Infinity adapts and evolves with your data needs today and beyond. Choose from a range of applications, from measurable/minimal residual disease (MRD) and molecular response to therapy selection from insights on key Immuno-oncology (IO) and homologous repair deficiency (HRD) biomarkers. Select the data you need today with the option to unlock insights from other modules at any time with no burden or delay of an additional sample collection.
Core Module
Gain comprehensive genomic and epigenomic insights uncovering novel tumor profiles to optimize patient selection and a deeper understanding of patient response and resistance, with forward capability to unlock additional insights
Add modules at any time, using the same sample
IO Module
Predict patients likely to respond to immunotherapy with a comprehensive panel providing a unique methylation signature along with somatic and germline detection of clinically relevant and exploratory biomarkers
HRD Module
Unlock insights from HRD biomarkers and cancer specific methylation profile to identify novel drug targets and patients who may respond to PARPi, ATRi, or DDR therapies
Viral Module
Confirm viral presence to characterize virally-associated tumors

Indication

Pan-solid tumor therapy selection, measurable/minimal residual disease (MRD) and longitudinal/response monitoring

Genomic Panel

~4 Mb

Methylation Panel

15 Mb

Sample Requirements

≥2 mL of plasma (retrospective)
2 x 10 mL of blood (prospective)

Report Output

Genotyping (SNV's, InDel's, CNA's, Fusions), tumor mutational burden (TMB), microsatellite instability (MSI), large genomic rearrangements, copy number loss and multi-exon deletion for homologous recombination repair (HRR) genes, sample level methylation detection, tumor fraction score, molecular response and optional add-on modules
Contact Us
Contact our biopharma team to see how we can help you accelerate precision oncology and bring the next generation of cancer therapies to patients sooner.